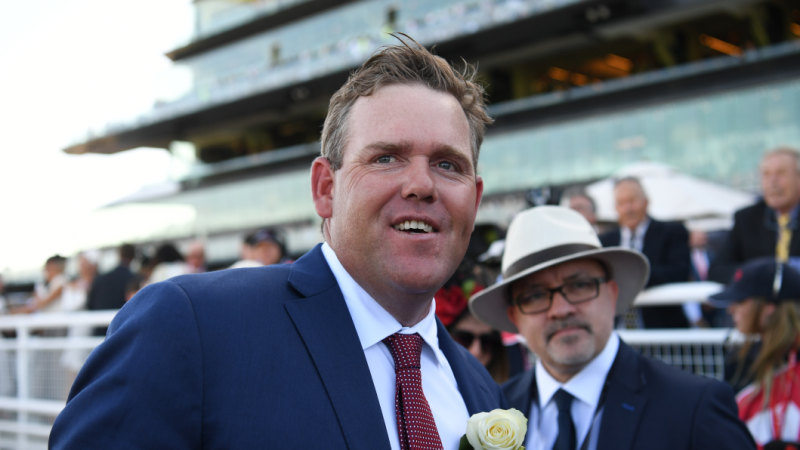 Early in proceedings, experienced racing lawyer Paul O'Sullivan flagged that mental health issues would be part of the defence and stewards took some evidence in camera from Smith during the four-hour hearing as they searched for reasons for the high cobalt readings.
O'Sullivan offered a doctor's report about Smith's mental health as evidence, telling the stewards of Smith's excessive use of prescription painkillers for a chronic back complaint, along with a drinking problem.
"Not two substances you want to be using or abusing together," O'Sullivan said.
The lawyer said it led to depression and anxiety.
Smith has been stood down since stewards raided his Newcastle stables on September 11 following the two swabs that exceeded the cobalt threshold of 100mg/L. Both were outside the calibration of the testing equipment with Iron Duke found to have a level of  245mg/L of cobalt in its system and Elaborate 535mg/L.
Stewards are also looking at out-of-competition testing from the day of the raid, which showed El Dorado Dreaming had a cobalt level of 740mg/L and Tabrobane 2900mg/L.
Smith admitted to using a concoction of a drip, which contained three times more than the manufacturer's guidelines of VAM and hemoplex (legal substances that contain cobalt) five days out from racing.
It had been given to El Dorado Dreaming and Tabrobane on the morning of the raid.
Smith would then follow up for the next two days with three times another 30 millilitres of VAM and hemoplex, again three times above the recommended dose, delivered by injections.
However, he claimed he hadn't breached the rule that horses must not be treated one clear day before racing.
There were no records of the use of the drugs in Smith's treatment books, which had only been filled out by stable staff, not the trainer himself, who gave the drips and injections.
"We are flying blind here because you didn't fill out your treatment book and depending on your memory," chief steward Marc Van Gestel told Smith.
The trainer admitted to having been "slack" with his record keeping through his career. Smith said the use of hemoplex only started in August and stewards said looking at the records of his runners, the cobalt levels before the Iron Duke sample had been within normal levels.
O'Sullivan challenged the evidence of Racing NSW veterinarian Dr Toby Koenig, who challenged Smith's intent. Smith claimed the drugs were being used for recovery.
The inquiry will continue on Thursday when two of Smith's former staff, Shaun Flaherty (now a rider's agent) and Neil Costello (who was warned off for failing to give evidence during the Smith investigation) asked to attend.
Racing writer for The Sydney Morning Herald