Then a friend gave me The Little Disturbances of Man by American Grace Paley, published by Virago Press in 1980.
I didn't know what to make of these quirky, breathless tales. All the women seemed far too occupied with men and I was convinced, at 18, that relationships were a fast track to female disempowerment. (I was yet to experience my first serious relationship.)
But Paley was a ground-breaker when this book was first published in 1959, lauded in a male-dominated market for a collection of short stories in an era when sci-fi author Ray Bradbury was told the perpetual publishing myth: "Short stories don't sell."
I spent the next year reading Virago's titles, discovering the likes of Virginia Woolf, Margaret Atwood, Angela Carter, Mary Renault, Rachael West and Simone de Beauvoir.
Thirty years later, I believe the Stella Prize fulfils a similar role, curating and celebrating the writing of Australian women.
It does this in several ways: the prize itself; the Schools Program exploring issues of language, power and gender; the Girls Write Up festival for teenagers, and the annual Stella Count, which analyses the coverage of female authors in 12 publications.
It does seem to me that the Stella Prize and count have been genuinely effective in changing the conversation about women's writing.

Dr Julieanne Lamond
Academic and author Dr Julieanne Lamond, of ANU's School of Literature, Languages and Linguistics, says there were serious attempts in the 1980s to shift the masculine emphasis of Australian literary culture, including reviewing counts and prizes.
"There have also long been feminist scholars, editors, publishers and writers working for change," she says.
"But it does seem to me that the Stella Prize and count have been genuinely effective in changing the conversation about women's writing."
Lamond says the way her students relate to texts has changed rather than the books they read. She gives the example of My Brilliant Career by (Stella) Miles Franklin, whose name is linked to the Miles Franklin Literary Award and the Stella Prize.
"When I first started teaching it many students found Sybylla Melvyn really confusing and frustrating. Why didn't she just marry Harold Beecham, if writing was so important to her?" Lamond says.
"More recently they accept her straightforwardly as a feminist and identify with that – and her own frustration, confusion and rage seems to resonate more with them."
Curious to find out which books are influencing young women today, I quizzed the youngest author on the Stella Prize longlist, 22-year-old Jamie Marina Lau.
Her experimental debut novel, Pink Mountain on Locust Island, is about a 15-year-old girl processing the eccentricities of a fragmented life with her artistic father in Chinatown.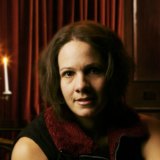 Lau's influences begin with The Collected Dorothy Parker, which made her want to become a writer, and include Why I'm no Longer Talking to White People about Race by Reni Eddo-Lodge, which gave her a new perspective on activism and dealing with systematic racism and sexism.
Lau, who studied film and literature at Monash University, says Korean author Han Kang and Japanese author Banana Yoshimoto taught her that feminism doesn't have to be explicit: "In The Vegetarian the main character is very alienated, as though she is morphing into this strange creature, when really what she is doing is a form of liberation," she says.
"She is just rebelling against the ingrained patriarchy that exists."
After reading Salinger's Catcher in the Rye and Kerouac's The Road, Lau set out to create a female character who seemed as confident and savvy as their protagonists. "It was hard, reading female characters in their books and thinking that's not how it always is," she says.
But in the end she had to let her main character evolve rather than fit an agenda.
"I never thought to write a feminist book, but it came out as a feminist book because I was writing a character through what they observed and consumed honestly, rather than how they are and how they're supposed to be."
Louise Swinn, chair of the 2019 Stella Prize judges, says a theme that emerged from the 170 or so books submitted for the prize was the prevalence of sexual abuse.
"There is so much of that in people's backgrounds and stories and it has to be an underlying feminism that has victims, for want of a better word, less afraid to talk about it," Swinn says.
"That is what Bri Lee's book, Eggshell Skull, is about; being able to be the face of someone who is supposedly a victim and turning it around, and that kind of thing is very empowering." Swinn says the 12 books on the longlist show that women are pushing the boundaries of what's expected in fiction and non-fiction.
"Even in a book of essays like Fiona Wright's The World Was Whole, she is stretching her themes and weaving them into personal stories, which are also travelogues and commentary on modern life and illness, and even critical theory," Swinn says.
Loading
Notably, the 2019 Stella Prize judges' report calls for more diversity in publishing. "We wished for more representations of otherness and diversity from publishers: narratives from outside Australia, from and featuring women of colour, LGBTQIA stories, Indigenous stories, more subversion, more difference," the five judges write.
Stella Prize Executive Director, Michelle Scott Tucker, says the organisation's vision is for a more equitable Australian society that recognises the cultural contribution and diversity of women's stories.
I asked her if the Stella Prize would one day include authors who identify as non-binary.
"It's too soon to say whether the focus of the Prize will change but we are speaking with, and listening to, a range of voices in order to determine how best to celebrate non-binary authors,' she says.
"Their stories are also important to shaping an Australian society where power and possibility are not limited by gender, race, class, sexual orientation, disability or age." The Stella Prize shortlist will be announced on International Women's Day on March 8.
Blanche Clark is a writer and former literary editor.