«It will only apply to people who are there [currently],» the Victorian senator said when explaining his decision.
«The Home Affairs department they assured me today they [the refugees] will remain in detention in some manner or form — they will not be coming here and wandering around the streets of Australia.»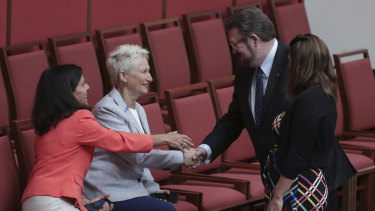 Senator Hinch backed the bill in the Senate late last year. But it had to return to the Senate on Wednesday after being amended in the House of Representatives on Tuesday — the first time in almost 80 years that a government has lost a vote on legislation in the lower house.
The Senate's confirmation of the bill, by 36 votes to 34, means it will now go to the governor-general for royal assent, and means Labor — along with the Greens and crossbench — have been able to create legislation from opposition.
The Coalition has ferociously argued the law undermines Operation Sovereign Borders and will prompt people smugglers to restart their trade.
Finance Minister Mathias Cormann warned that «rapists and paedophiles will still get a free pass into this country» under Labor's amendments.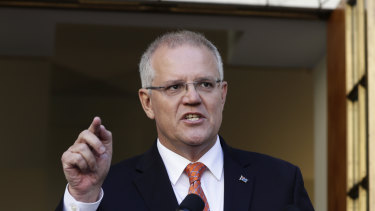 On Wednesday morning, Mr Morrison said he would reopen the Christmas Island detention centre — which closed last year — to cope with what he predicted would be an influx of transfers from Manus Island and Nauru.
Mr Morrison convened an urgent meeting of the National Security Committee of cabinet and said he had commissioned «a range of strengthenings» to Operation Sovereign Borders as recommended by security and intelligence agencies.
«Everything they are asking for, they are getting, and that has involved a strengthening of the capacity of Operation Sovereign Borders across a whole range of fronts,» he said.
«I am not at liberty to go into the detail of what they are for obvious reasons. This Parliament has already tipped its hand enough to the people smugglers.»
Senator Hinch asked for and received an urgent security briefing on the implications of the bill on Wednesday morning, but said he was ultimately not persuaded to change his mind.
«I was quite happy to be accused of flip-flopping if I'd gone the other way,» he said.
Asked about the limits put on the bill by Labor that confine it to the cohort of refugees currently on Manus Island and Nauru, Mr Morrison said people smugglers would test the government's resolve anyway.
«People smugglers don't deal with the nuance of the Canberra bubble,» he said.
«They deal with the psychology of messagings of whether things are stronger or whether things are weaker.»
Michael Koziol is a political correspondent for The Sydney Morning Herald and The Age.