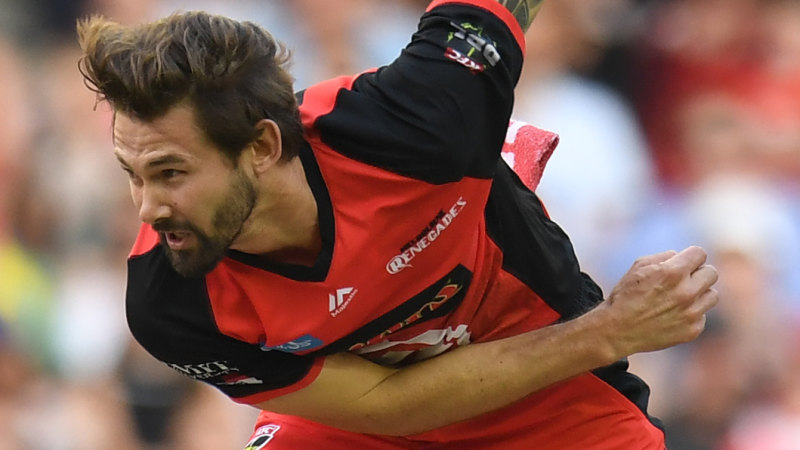 "I love playing there. I know a few blokes have said the wicket hasn't been up to scratch, but I love bowling there obviously," Richardson said on Wednesday.
"It hasn't been as high-scoring as other grounds, but as a bowler that's perfect. Obviously, on Friday night we want the best product that we can have. But if it's 140 versus 150 and we're on the right side I reckon everyone will be happy."
So strong has Richardson' BBL form been, he earned a recall to Australia's white-ball setup for the upcoming tour against India. It came as a surprise to the South Australian.
"The bowling depth in Australia now is so big that I didn't think I'd be around the mark, but injuries always open the door, so I'm pretty pumped to get over there," Richardson said.
Still, with Josh Hazlewood and Mitchell Starc both on their way back from injury, Richardson doesn't think he'll hold his spot for the World Cup later this year.
Indeed, Richardson said he had been told by Starc earlier in the week that the left-armer would be back for the one-day series against Pakistan in the United Arab Emirates that follows the India tour.
"I guess all you can do is stay fit and if you get an opportunity do as well as you come," Richardson said.
The unexpected departure of Afghanistan all-rounder Mohammad Nabi has left a vacancy in the Renegades' XI for Friday night's match.
Richardson was expecting a batsman to come into the side.
"Cameron White's obviously sitting on the bench, Beau Webster's done OK at times. [Nabi] hasn't bowled as much this year as years gone by, so I think we can cover him there, but his batting is going to be tough to replace."