"These high electricity prices were notable because they occurred despite average mainland operational demand for the quarter falling to its lowest level since 2002 and a lack of high spot prices above $300 a megawatt hour,» AEMO said.
During this period South Australia set a new all-time minimum demand record of 599 megawatts – the equivalent of a single generator at AGL's Loy Yang A coal-fired power station – beating the previous record by 62 megawatts.
"This represents a continuation of the decreasing average demand trend in the region, primarily driven by increasing rooftop solar uptake," AEMO said.
According to Green Energy Markets, rooftop solar alone accounted for 6 per cent of the entire country's power in December.
Grattan Institute energy director Tony Wood said this combination of reduced demand and high prices is raising the risks of continued government intervention.
«This shows a continuation of the recent trends such as the growth in large scale renewables, the fall in operational demand on the grid, the hollowing out of daytime demand due to solar and the market in suspended animation as the policy hiatus continues,» Mr Wood said.
«That trend also amplified the market peculiarity where falling demand and high prices go together. It puts pressure obviously on the political decision-makers, and the risks of intervention we have already seen.»
The reduction in power usage was also driven by a reduction in energy-intensive industries like refining, smelting and manufacturing as well as households becoming more energy efficient.
Energy Efficiency Council chief executive Luke Menzel said consumers are looking at smarter, simpler ways to conserve power and reduce electricity costs.
"One of the quickest ways businesses and individuals can drive down their bills is through energy efficiency improvements," Mr Menzel said.
"It's great to see that some of the work consumers have been doing to reduce their demand is starting to show."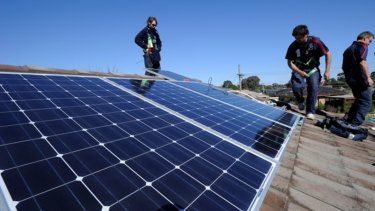 Despite SA setting a new minimum record, the majority of this reduced energy demand came from Victoria.
"Almost all of the entirety of the Q4 2018 demand reductions occurred in Victoria, where average operational demand decreased by 215 megawatts or four per cent," the report said.
It said this was due to rooftop solar panel installations jumping by more than a quarter compared to the same time last year as well as milder weather over November.
The report stated it was also the 'greenest' fourth quarter on record, with emissions from the energy industry falling to their lowest ever point.
This was due to a combination of less brown coal-fired generation — due to the closure of the Hazelwood power station in Victoria — more renewable generation, and less overall electricity demand.
It comes as the government pushes a range of new initiatives designed to drive down power prices ahead of a federal election.
The Morrison government has proposed a new regulated default power price, a comparison power price against which all discount offers can be measured, and new powers allowing it to break up energy companies that have found to be manipulating market prices.
Covering energy and policy at Fairfax Media.