They've sold 50 million albums worldwide — more than their post-grunge peers Creed, Lifehouse or Matchbox Twenty — and were named the most successful rock band of the 2010s by Billboard.
But they've also been relentlessly meme'd and mocked.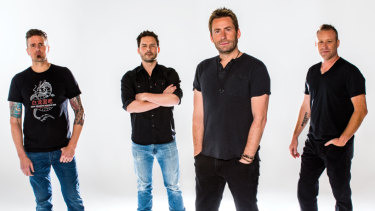 So heading out to the Brisbane Entertainment Centre to see the Canadian rockers of 24 years standing on a Wednesday night, I really wasn't sure what to expect, other than a questionable trip back to the songs of my angst-filled teens.
It turns out the shoulder-length bleached blond hair may be gone, but the heavy guitar chords remain, even with a dash of piano (but not too much — this is a rock show, after all).
«Brisbane, we made it back,» Kroeger says.
«About goddamn time.»
The self-deprecating banter between Kroeger and guitarist Ryan Peake almost comes back to bite them when Kroeger notes "rock and roll rule number one".
"You never, never, say the wrong name of the city," Kroeger says.
"Never. I mean … you can, it's just not going to go over well."
A few more guitar chords and shouting, a few shots and a shoey later, that rule is almost broken — almost. Brisbane and Melbourne are the next shows? Oh dear, no.
Sydney and Melbourne, Peake corrects his bandmate — there's a reason the name of the city is taped to the stage.
Whoops. It was close. One or two light-hearted boos and we're back on track.
The biggest hits, of course, get the strongest reaction, from Someday and Far Away to Photograph.
The latter is gleefully welcomed by several fans wearing blond wigs and holding up a graph — a tribute to a long-standing Nickelback meme.
Kroeger, peering out into the crowd, compliments them on their hairstyles. His hair was never that long, he notes, but sadly the proof of "terrible" haircuts lasts forever thanks to YouTube.
Lullaby brings the piano and the acoustic guitar makes a brief appearance before we get back to what everyone wants — more distortion.
An invitation for two fans to get up on stage and sing Rockstar leads to Felicity happily joining in, while "Shredder", a Teenage Mutant Ninja Turtles fan wearing headphones to a rock concert, manages to keep the chorus going.
After the anthemic lead single When We Stand Together from their 2011 album Here and Now, it's time for some more audience participation, which somehow leads to a fan attempting a shoey from Kroeger's boot.
Unfortunately, it turns out, there's a hole in the heel, so the alcohol has to be poured from boot through hole to mouth.
Never mind. A new form of shoey has been born and fan Lindsay and his buddy get backstage passes after the show. Everyone is happy.
Back to the music. Savin' Me from the 2005 album All the Right Reasons is one of the last songs. The crowd of tweens and teens, retirees and grandparents, and everyone in between, is still singing along.
As the crowd roars out the lyrics to How You Remind Me, the song that catapulted them to popularity and mockery in equal measure, Nickelback leaves with an encore and a lot of distortion.
They don't take themselves too seriously, and they make sure that everyone is having fun: so maybe I'll lay off the band that everyone (still) loves to mock.
After all, could you pack out the Brisbane Entertainment Centre, on a weeknight, with people screaming your number-one hit lyrics back at you?
Lucy is the urban affairs reporter for the Brisbane Times, with a special interest in Brisbane City Council.