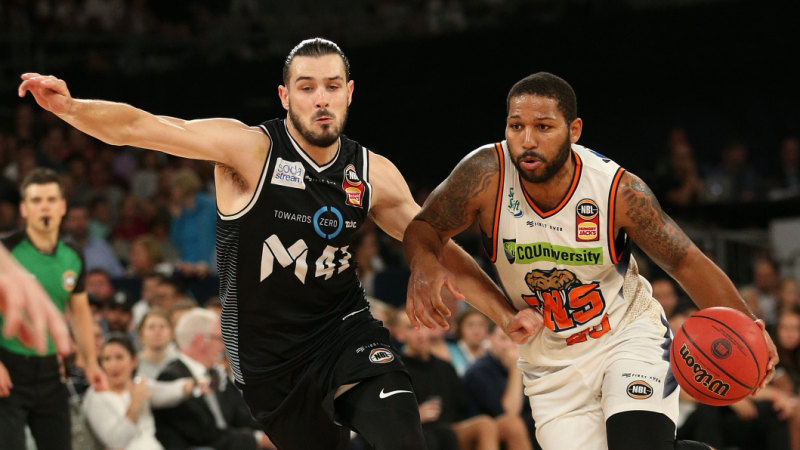 If Perth beat Adelaide then Melbourne would need to thrash Perth by a sizeable margin on Sunday to overtake them on percentage.
Vickerman said after Thursday night's loss that making slow starts and attempting comebacks would not be sustainable in the finals which start following the upcoming FIBA international window.
«No it's not [sustainable],» Vickerman said.
«We have to win first quarters, we have to come out with the right intent and play the way we spoke about.»
In NBL history, 31 of the 40 champions have had home-court advantage and nine of the past 10 championship winners have had home court including Melbourne last season.
Captain Chris Goulding was disappointed his side couldn't seize their opportunities but he pointed to his side losing to Sydney last Friday then bouncing back in Adelaide on Sunday as a trend which could be repeated this Sunday.
«We have been presented with some amazing opportunities as a group and we've failed to take them at the first time they have been handed to us,» Goulding said.
«We had the chance in Sydney to have a really good weekend, we stumble and then we say, 'Crap, let's be really good in Adelaide', then tonight we had a chance here to get towards top spot and historically top spot is a big prize and I just hope we respond like we have previously.
«But at some stage you have got to take opportunities when they present themselves as they don't hang around in this league for long.»
Melbourne has had a boost following Thursday night's loss with star centre Josh Boone expected to play on Sunday despite taking a knock to his abdomen and not returning against the Taipans.
That slow start paved the way for the Taipans to set up their win, but Vickerman said his side had to refocus for Sunday as a win would still assure them of second place and home court for the semi-finals.
«I don't think I should have to [pick up the morale],» Vickerman said.
«This group will be disappointed and we will allow ourselves to be disappointed then start our scout on Perth.
«In the finals if you don't have a performance you are happy with then you have to let it go pretty quick and we are good enough to do that.»
Melbourne United play Perth Wildcats at Melbourne Arena on Sunday at 2.50pm.
Roy Ward is a Sports writer for The Age.