Here are the overnight market highlights:
ASX futures down 31 points or 0.5%
AUD -0.1% to 69.18 US cents
On Wall St: Dow -0.9% S&P 500 -0.7% Nasdaq -0.8%
In New York: BHP -1% Rio -2.1% Atlassian -3.6%
In Europe: Stoxx 50 -1.5% FTSE -1.2% CAC -1.7% DAX -1.6%
Spot gold +0.4% to $US1287.00 an ounce at 2.47pm New York time
Brent crude -1% to $US69.38 a barrel
US oil -0.6% to $US58.76 a barrel
Iron ore up 7 cents to $US106.18 a tonne
Dalian iron ore -0.1% to 740 yuan
LME aluminium — 0.7% to $US1795 a tonne
LME copper -1.3% to $US5883 a tonne
2-year yield: US 2.11% Australia 1.10%
5-year yield: US 2.07% Australia 1.16%
10-year yield: US 2.26% Australia 1.48% Germany -0.18%
10-year US/Australia yield gap as of 6.45am AEST: 78 basis points
Dip-buying is drying up.
The dry powder deployed earlier this month, which helped the S&P 500 stay above 2800 as well as its 200-day moving average during the re-emergence of the US-China trade war, was conspicuously absent on Wednesday (Thursday AEST) as the benchmark stock index dropped below the technical-support levels to the lowest in 11 weeks.
There's another sign that the tenor of the sell-off is changing. For the past two weeks, it was marked by sharp overnight losses that were greeted as buying opportunities during regular trading hours.
The S&P 500 actually posted an average gain when measured from open to close, instead of the traditional close to close.
In the past five days, though, the measure is averaging a worse showing during the day, the first time that's happened since May 3, the Friday before President Donald Trump ratcheted up the trade conflict.
Read the full story here.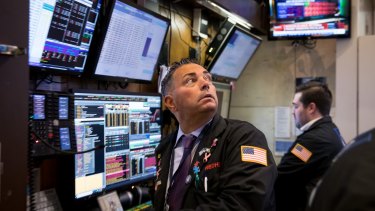 Good morning and welcome to Markets Live for Thursday.
Your editor today is William McInnes.
Recession concerns hit global markets overnight and Australia looks set to feel the effects too.
This blog is not intended as investment advice.