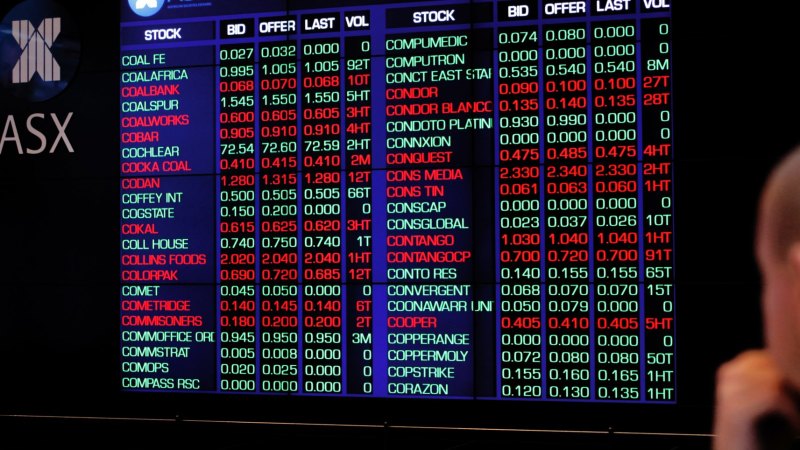 The S&P/ASX 200 has taken a sudden turn southwards, dropping from green to red within a couple of minutes and now sitting 0.1 per cent lower at 6073. The drop coincided with a jump in the volume of Telstra shares changing hands and a drop in the share price. The telco is now 1.1 per cent lower at $3.19 but was at $3.23 just before 11.30am.
Recently trading has also been heavy in Qube Holdings, which is flat, and Beach Energy is still higher with a 5.9 per cent gain to $1.79.
Shares in valuation firm LandMark White have lost 3.5 per cent to 42c in morning trade as investors react to the news the group has had a data breach. The company is the valuer of residential property on behalf of the four big banks and most other lenders for home loans. As a result of the «data incident', where customers personal details have been revealed, CBA and ANZ have both suspended using the firm until investigations have been completed.
Australia's biggest gambling company, Tabcorp, has seen profits from its wagering division slump after its more aggressive pursuit of new punters through advertising drives and bonus bet offers. Shares are down 10 cents, or 2 per cent, to $4.66 this morning.
Tabcorp on Wednesday told shareholders its underlying profit for the six months to December was $210.6 million – more than twice the profit it made the same time last year, but it still fell short of analyst forecasts, which had been up to $223 million.
Revenue had more than doubled to $2.79 billion, the company said. But in its wagering and media division, earnings before interest and tax were down 4 per cent to $159.6 million, missing expectations. JPMorgan had forecast $171.5 million.
Embattled retirement village operator Aveo is assessing several bids for a company buyout as it posted a half-year loss of $44.7 million, the result of declining property valuations in its portfolio and a broader slump in the residential market. Australia's property market «remains extremely challenging in terms of converting our written contracts into settlements,» Aveo's directors said.
The residential property slump has seen steep price falls in Sydney and Melbourne as the big four banks tighten the screws on investors, raising standard variable interest rates and ramping up scrutiny of borrower's loan applications. Excluding the impact of property revaluations from its results, Aveo said its underlying profit after tax for the six months to December 31 last year was $12 million, a drop of 67 per cent on the previous corresponding period.
Shares are up 2.5 per cent to $1.75, the highest price since early December 2018. Read the full story from Simon Johanson here.
Commonwealth Bank goes ex-dividend today and the stock is down 2.52 per cent to $71.48. The dividend is $2 and shares are down $1.87. Other large banks are higher with Australia & New Zealand Bank up 1.4 per cent to $26.84, Westpac up 1.2 per cent to $26.52, and National Australia Bank up 1 per cent to $24.46.
Macquarie Group is at a four-and-a-half-month high of $126.93, very close to breaching fresh historical highs. The millionaire's factory highest price ever is $129.40 31 August, 2018.
Morgan Stanley analysts have given Macquarie a target price of $133 after yesterday's market update.
«Macquarie Group has reaffirmed guidance of fiscal year 19 estimated earnings increasing «up to 15%» year on year consistent with our expectations,» the analysts wrote.
«However, the strong flows in asset management come as a positive surprise given the recent challenging conditions for the
Campbell Neal's K2 Asset Management Holdings reports a 111 per cent drop in profit this morning and has cancelled dividends for the second time in a row. The massive drop in profit is due to performance fees dropping from $7.6 million to $10,768 in the six months to December 2018.
Revenue dropped from $10.8 million in 2017 to $2.7 million in 2018 for the six-month period, made up of management fees and interest.
K2's Australian Small Cap Fund and Select International Absolute Return Fund were the only funds to out-perform the index, but both still made negative returns of -10.7 per cent and -2.3 per cent respectively.
Australian gold producer Evolution Mining has reported a 25.6 per cent fall in its statutory profit after income tax for the first half, to $91.1 million, which it attributed mainly to the impact of non-cash related items. Shares are down by 4 cents to $3.80, a drop of about 1 per cent.
Evolution said non-cash related items reduced its before income tax profit by $35.3 million, while cash related items lowered its profit by $11.3 million. Evolution's statutory profit before tax was down $43 million compared to the prior corresponding period.
The miner left its full year production and cost guidance unchanged, adding that it was expecting an «improved operational performance» for the second half of fiscal 2019.
Evolution also cited current gold prices as something that would give it a lift in the second half. «In addition, the gold price is currently $A155 per ounce higher than the achieved price for the half-year to December 2018 of $A1,695 per ounce,» it said.
Carsales shares have dropped $1 to $11.16 in morning trading, a fall of 8.4 per cent, after it reported a 2 per cent decline in net profit after tax to $11.1 million for the first half compared to the same period last year. The reported revenue was up 17 per cent over to $235 million. Chief executive Cameron McIntyre has blamed the banking royal commission for continued difficulties in the vehicle sales site's financing division though expects «moderate» growth in profit over the second half of 2019.
For the first half of 2019, the car selling website's reported net profit after tax was down 82 per cent to 11.1 million compared to 2018, largely as a result of a $47.8 million impairment in its car financing business Stratton. Mr McIntyre said this was due to legislative changes affecting lending and the tighter credit market.
Earnings were up slightly at Bapcor, but slowing sals saw shares fall heavily in morning trading, down 9.3 per cent to $5.82.
The company's stores, which include Autobarn and Burson, saw sales growth drop from 4.4 per cent in 2018 to 2.1 per cent in the six months ending December 2018. Bapcor expects the retail softness «to continue for the remainder» of 2018-19. It is forecasting 9 per cent growth in net profit for the full year, which is «at the low end of previous market guidance».
Including Bapcor's sale of its TRS tyre and wheel business, revenue is up 3.2 per cent to $636.1 million and post-tax profit is up 6.6 per cent to $43.1 million.
Oil and gas company Beach Energy has seen its profits and revenues jump more than 100 per cent as it rode the wave of the oil boom and has likely become Australia's largest oil producer. Beach's profit has increased by 196 per cent for its 2019 first-half results, rising from $96 million in 2018 to $279 million in 2019. Shares are up 4.7 per cent in early trading to $1.77.
The company has also lifted its earnings guidance by around $200 million, to reach between $1.25 billion and $1.35 billion for the financial year. In October, the oil price reached its highest point since 2015, rising to $US86 a barrel, before it tumbled over again over November and December. The group has been on a sharp growth trajectory since it acquired Origin subsidiary Lattice Energy for $1.6 billion in late 2017, transforming itself from an energy minnow to a major player overnight.
Full story from Cole Latimer will be online soon