«The cake is a snippet of a Great Barrier Reef with a tiger shark swimming just above the sand and a diver that has just spotted the shark and is lying low by a coral cave,» she said.
«I just want the rest of the world to know the beauty of it and I want people to know the reef is not always going to be there unless we take action.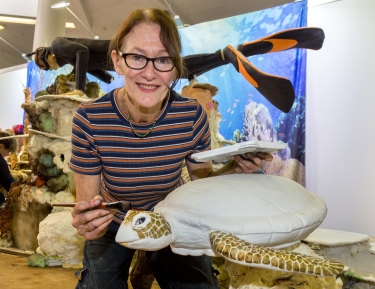 «If we want to leave it for our children to enjoy, we need to start seeing the way we dispose of plastic and deter people from touching the coral.»
Ms Klerck said creating the cake was a race against time, with gravity a major factor.
«I think the biggest challenge with doing a cake like this is that it has to be delivered and it has to go on a forklift so it can't move a millimetre,» she said.
«We wish we had more time to work on the shark but our base board came late so we did it in two days, which was too fast, and painting it took about five hours.»
She said few people in the world built cakes that large.
«They make a single cake like the shark because the whole composition is different.»
Brisbane cake maker Zoe Byres said the cake was just one example of how the industry was evolving.
«When people think of cake decorators, I think they picture old ladies sitting at the back of their houses making sponge cakes with sugar flour on top but, in reality, it's a whole other world,» she said.
«It's like an art industry now, where you have experts creating stuff out of cake rather than everyday afternoon tea stuff.
«It's becoming a community where people are learning from workshops, YouTube and other people on social media.
«[Ms Klerck's installation] is the most incredible thing I've ever seen.»
Jocelyn Garcia is a journalist at the Brisbane Times, covering breaking news.