The forecast dry conditions will be bad news for farmers and growers. Despite the wet end to May, 2019 has seen rainfall well below long-term averages.
And the dry start to the year has seen the city's water storages fall to below half full. On Thursday they were sitting at 49.6 per cent. This time last year they were at 58.5 per cent. In 2015 they were at 69 per cent.
This winter might well be warm but the nights are shaping to be colder than usual, thanks to fewer cloudy nights, which comes with an increased risk of frost.
«With less precipitation moving through, there's some risk we'll see more frost days than what you would in a normal winter,» Mr Delamotte said.
The bureau is forecasting similar conditions across parts of eastern and southern Australia.
«Australia-wide, it's been the warmest start to the year on record,» said senior meteorologist Andrew Watkins in a statement on Thursday.
The warmth and dryness are a flow-on effect of conditions in the Indian Ocean, the bureau said.
A wet and windy Wednesday in Melbourne saw temperatures in the CBD hit a top of 10.6 degrees making it the coldest day in May since 2000.
It was even chillier in Ballarat, where it reached a maximum of just 5.7 degrees at 10.30am, also making it the city's coldest May day since 2000.
There were even snow showers in the centre of Ballarat in the mid-afternoon.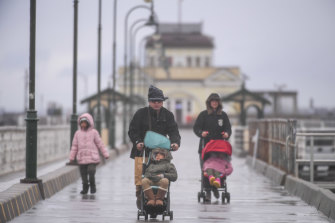 Thursday was warmer, though only a little, with the sun even peeking through the clouds around lunch time and sending the mercury up to a relatively balmy 13.3 degrees just after 2pm.
Yan is a reporter for The Age.