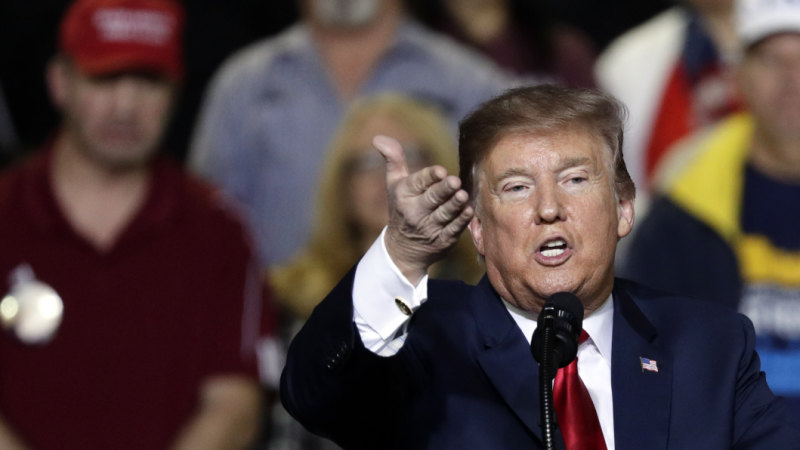 It is relatively common for US presidents to issue emergency declarations — usually to freeze assets of overseas dictators or in the wake of a cataclysmic event such as the September 11 attacks.
What is not common is for a president to use an emergency declaration to spend money without Congress's approval.
That is exactly what Trump is now doing after Congress only agreed to provide $US1.4 billion ($2 billion) in funding for physical barriers on the border — far less than the $US5.7 billion he wanted.
So he has decided to bypass a co-equal branch of government and go it alone.
But one of the top priorities of the founding fathers was to ensure they did not grant the president imperial powers.
Loading
Several prominent Republicans instantly spoke out against the move, saying it violated the separation of powers laid out in the US constitution.
Republicans also warned it would set a dangerous precedent that would allow a future Democratic president to enact left-wing policies by fiat.
«We have a crisis at our southern border, but no crisis justifies violating the constitution,» Republican Senator Marco Rubio said. «Today's national emergency is border security. But a future president may use this exact same tactic to impose the Green New Deal.»
Susan Collins, a moderate Republican from Maine, said: «Such a declaration would undermine the role of Congress and the appropriations process.
«It also sets a bad precedent for future presidents – both Democratic and Republican – who might seek to use this same manoeuvre to circumvent Congress to advance their policy goals.»
Democratic House Speaker Nancy Pelosi warned that what goes around comes around.
A future Democratic president could issue an emergency declaration on gun violence, she said, to make it harder to purchase firearms.
The US immigration system is far from perfect. More could certainly be done to stop people entering the country illegally.
But the rationale for an emergency declaration on border security appears to be dubious at best.
In 2017, border crossing apprehensions were at their lowest point since 1971.
Republicans warned it would set a dangerous precedent that would allow a future Democratic president to enact left-wing policies by fiat.
And while most of the heroin in the US does come over the southern border, 90 per cent of it is transported in vehicles through legal ports of entry.
Which is not to say that Trump will lose when his declaration is inevitably challenged in the courts.
The Supreme Court has recently taken a broad view of executive power. In a 5-4 decision last year, it ruled that Trump's travel ban on several majority Muslim countries was constitutional.
Trump's move will undoubtedly delight his conservative base. It shows he is totally committed to enacting his signature promise of the 2016 election campaign.
But it also carries real political risks. Trump's approval ratings bounced back this week after tumbling during the 35-day government shutdown.
His seven percentage point increase in the Gallup poll was due entirely to increased support among independent voters.
They liked the bipartisan tone Trump struck in his State of the Union address and the fact the government was open again. In short, they liked the return to something resembling normality.
The emergency declaration Trump is proposing is anything but normal. The American political system may never be the same again.
Matthew Knott is a Fairfax Media reporter based in the United States. He previously worked in the Canberra press gallery and recently finished a Masters of Journalism at Columbia University in New York.