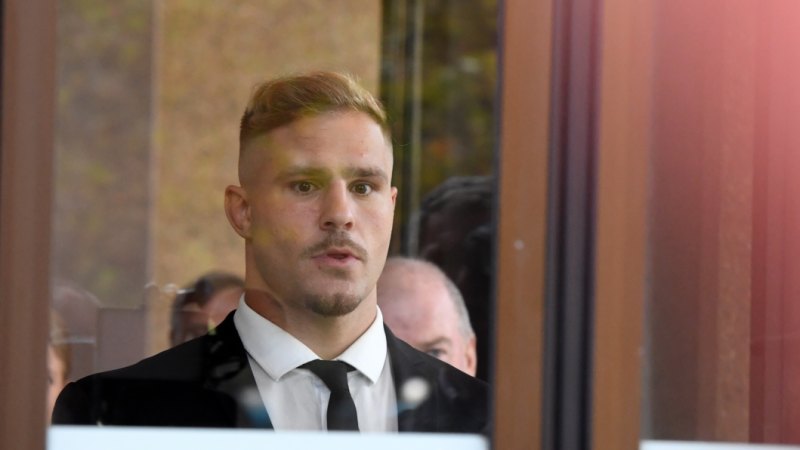 The Herald understands the Red V will re-explore the issue with powerbrokers at Rugby League Central if the Federal Court rules against de Belin.
De Belin's current three-year contract was worth $500,000 in 2018, $545,000 this season and $595,000 in 2020. Aside from the issue of who pays for a replacement, the Dragons will struggle to find a representative-quality forward on the open market straight away. They are also conscious they could invest in a replacement only to find de Belin is acquitted or his criminal case is thrown out of court soon afterwards.
The Dragons had internally discussed potential contingency plans, including Melbourne forward Joe Stimson. However, they are hopeful their NSW backrower could be reintroduced back into the team in coming weeks.
The Federal Court case has already caused fractures in the game, as evidenced by some of the documents tendered by both parties.
The Rugby League Players' Association is an advocate for the previous policy, which allowed players to continue to take the field until their court matters were finalised.
The RLPA urged the NRL not to change the protocols in a letter from its chief executive Ian Prendergast to NRL counterpart Todd Greenberg a week before they were announced.
Prendergast cited the case of Brett Stewart, who was cleared of sexual assault allegations. The Manly fullback was stood down for four weeks and Manly was fined $100,000 for his behaviour preceding the incident. A decade has past and it is still a sore point for Stewart and some Sea Eagles powerbrokers.
"Unfortunately, unsubstantiated allegations are often made against players from members of the public," Prendergast wrote. "Brett Stewart's case should serve as a warning against the perils of adopting a change in policy. It is highly likely Brett's career would have been prematurely ended if he had been suspended during the criminal two-year process, not to mention the mental, psychological, emotional and financial harm that likely would have been caused him."
The RLPA described any change in policy as «reactionary and outside what was agreed under the collective bargaining agreement. Players can now be suspended for up to two years, which goes outside of the agreed maximum suspension of two years allowed under the agreement.
The NRL's hardline stance drew support from Our Watch CEO Patty Kinnersly, who described the NRL's leadership on the issue as "courageous".
"This is such a tricky issue, I feel you have come up with a proposal that is fair and serves to make a clear statement to all," Kinnersly stated in a letter to the NRL. "This type of action could only have been led by one of our leading codes, and I hope it serves as a catalyst for other sports in the country."
Adrian Proszenko is the Chief Rugby League Reporter for the Sydney Morning Herald.