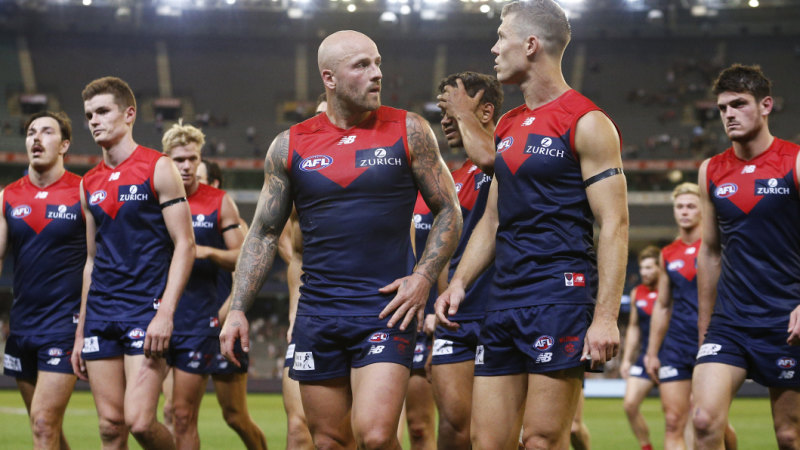 But the lack of training sessions was also due to the Demons, as a preliminary finalist, finishing 2018 later and the longer break that their players get under the collective bargaining agreement deal with the AFL Players' Association.
Loading
Close to 20 Melbourne players were still in the rehabilitation group after Christmas, meaning that they could not train properly and that, unlike many rival clubs, the Demons did not do match simulation until later in the pre-season than they would have liked.
The players who had surgeries before this season included Clayton Oliver (shoulder), skipper Jack Viney (foot), who has struggled in the early rounds this season, key forward Tom McDonald, whose fitness issues have been on display in the opening six rounds, talented forward Christian Petracca (knee), tagger James Harms (shoulder), forward Jake Melksham (ankle), small defender Neville Jetta (shoulder), Aaron Vandenberg (shoulder) and Mitch Hannan (knee).
Key defender Jake Lever was recovering from a knee reconstruction during the 2018 season and is still four-to-six weeks from resuming. Viney will miss the next two weeks with an AC joint injury and Jetta is expected to be out for about 10 weeks following knee surgery.
Key defender and major recruit Steven May has played only one game as a result of a groin injury, having hurt his hamstring in the pre-season after not showing up in peak condition.
Comparisons have been drawn within the AFL industry between the problematic pre-seasons that Adelaide experienced last year and Melbourne's prior to 2019, since the Crows also crashed following a late September (grand final) finish the previous year.
While the Demons understand the impact of the surgeries and the pre-season – and the injury toll – they are keen to avoid making excuses for poor performances, having also identified failures in defensive running, poor ball use and a lack of forward options as among the causes of their 1-5 start.