The commission has been tight-lipped on which buildings have potentially dangerous cladding, but a word on the street news tip to Radio 6PR's Oliver Peterson on Wednesday revealed there are publicly available documents that disclose the addresses and names of three of the four Perth CBD buildings.
The buildings house hundreds of workers, residents and tourists.
They are office tower College House at 99 St Georges Terrace, which houses Suncorp Bank; Medina Grand Perth on Mounts Bay Road, which houses an apartment-style hotel; and the Queens Riverside luxury apartment tower, finished in 2014.
The owners of the three buildings have submitted development applications to the City of Perth with the description of the application simply stating 'cladding audit'.
Remediation varies from building to building, in some cases only minor work is needed. Once a building order to fix the problem is issued the owner must comply with it.
When asked what was wrong with the three buildings and what remediation work was required both the City of Perth and the Building Commissioner said they were unable to comment for privacy and confidentiality reasons.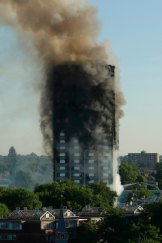 A spokeswoman said the building commissioner was bound by confidentiality and unable to disclose information obtained during the performance of his functions, unless certain exemptions existed.
«This confidentiality applies to private buildings included in the cladding audit, so we are not in a position to provide any detail on specific sites at this stage,» the spokeswoman said.
She said for private buildings involved in the cladding audit, building owners and strata managers were regularly updated about the audit progress.
«Following its assessment of a building, Department of Mines, Industry Regulation and Safety will provide a report to the relevant local government permit authority, based on the audit findings, for its consideration,» she said.
«Under the Building Act 2011, local government permit authorities are the proper authority for deciding whether buildings present any dangers and to issue orders to make the building safe.
«Consistent with the collaborative approach between state and local governments on this issue, DMIRS will continue to monitor the outcome of local government assessments.»
Hamish Hastie is WAtoday's business reporter.