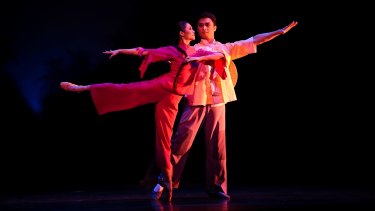 In Chinese, «propaganda», xuanchuan, literally means «proclaim and circulate». Propaganda plays a central role in both governance and cultural production in the PRC. Not all mainland Chinese art is propaganda – not by far, even if the Party would like it to be. But The Red Detachment of Women most definitely is. It was one of the prime entertainments of the Cultural Revolution – a movement launched in 1966 by Mao to purge his enemies within the Party and realise his radical, totalitarian-left vision for China. During the Cultural Revolution, millions of people, including many well-loved cultural figures, were detained, beaten, tortured, killed or driven to suicide, and youthful Red Guards, spurred on by Mao, trashed much of China's ancient material cultural heritage.
Many Chinese Australians whose families suffered during the Cultural Revolution or Land Reform found the staging of The Red Detachment at one of Australia's premier arts venues offensive and re-traumatising. They protested outside the Arts Centre, alongside some who simply objected to the romanticisation of the Communist Party's violent past.
Yet «red detachment» is not an option for Australia today. China under the Communist Party is a rapidly rising and steadily more assertive global power, as well as our foremost trading partner. The PRC's policies and actions affect the strength of Australia's universities, tourism and export sectors; the health of our environment; the security of our food production; the integrity of our political system; and our regional security.
This country has long struggled with its Asian identity. But Australia is already part of the Chinese world, and the Chinese world is part of Australia. Australia is home to 1.2 million people who claim some form of Chinese ancestry. Mandarin is today the second most common language spoken in Australian homes after English. Australia's ability to connect with China on a cultural level is crucial to our ability to understand and deal with the challenges of what is often a frictional relationship.
Chinese culture is many things. It is Peking opera and Beijing punk. It is ancient classics and internet slang. It can be historical, retro, contemporary, highbrow, popular, propagandist or rebellious, and may originate on the mainland, or in Taiwan, Hong Kong or the Chinese diaspora. It is a window into the intellectual and political preoccupations, hopes, dreams, social realities and fault lines within the nation to which our future is so inextricably tied.
Words such as «mysterious», «exotic» and «inscrutable» have for centuries attached themselves to China, paradoxically enhancing its romantic appeal while inhibiting appreciation of its more mundane realities.
Yet non-Chinese Australians have no reason to think those of Chinese heritage either exotic or unknowable. Indigenous people traded with Chinese fisherman along the northern coast for centuries before the arrival of anyone who even remotely resembled Pauline Hanson. The first, modest wave of Chinese migrants arrived in 1848 as indentured labour, mainly irrigators and shepherds.
More came during the gold rush several years later. Despite anti-Chinese riots and a permeant racism that crystalised in the White Australia Policy and still lingers in the far-right corners of our body politic, for over 170 years Chinese people have been essential to the fabric of Australian society. Today, numerous individuals of Chinese heritage play a role in mainstream Australian culture: former news anchor Lee Lin Chin, children's author and illustrator Shaun Tan, chef Kylie Kwong, senator Penny Wong and writer Benjamin Law, to name just a few.
Encounters with China and its culture have energised the work of many contemporary Australian artists, directors, musicians and writers, from Oodgeroo Noonuccal, who began writing poetry for the first time in years following a trip to China in the mid-1980s, to contemporary visual artist Tim Johnson, whose work draws on Chinese imagery alongside that of other cultures.
Before 1972, only about 1000 Australians had ever visited the PRC. Today, more than 700,000 Australians visit China every year. All return with some degree of cultural insight. Australians who may never get to mainland China have more opportunities than ever to encounter aspects of Chinese culture at home: The Red Detachment of Women, certainly, but also the exhibitions of 21st-century Chinese art at Sydney's privately funded White Rabbit Gallery, and the work of writers in translation, to name a few obvious examples.
Still, while most Australians can easily rattle off the names of contemporary American or European musicians, actors, artists, films, television shows or books, I'm guessing they would be hard-pressed to name even a couple from China. How many Australians can even conjure up the names of China's two winners of the Nobel Prize for Literature?
We in Australia are both more connected than we think we are and less than we probably need to be.
Genuine engagement isn't always as simple as attending (or creating) a festival show. As with The Red Detachment of Women, participation can raise sticky questions. And while cultural engagement in general may enrich us intellectually and socially, it is not going to solve Australia's economic or political problems with the PRC, some of which are confounding and serious. But it does make it less likely that we will resort to the kind of racism and facile name-calling and stereotyping that can only sabotage our ability to interact and negotiate with the country that looks set to dominate geopolitics in our region for some time to come. Besides, to equate cultural engagement with political surrender implicitly endorses the idea that Chinese culture is the preserve of the Communist Party and denies the Chinese people themselves complexity, agency and creativity.
This is an edited extract from Linda Jaivin's essay Red Detachment in Australian Foreign Affairs 5 – Are We Asian Yet?
Most Viewed in Entertainment
Loading