«They were living on urine and faeces and some were confined in small crates that had no water and no room for them to move around,» he said.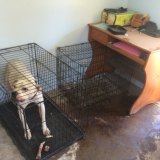 «It was very distressing."
Lamprecht, who founded Couch Surfers Animal Rescue in late 2017,  would regularly call for public donations on a Facebook page for dog training, veterinary treatment, food, blankets and beds.
She would charge people from $200 to $600 to adopt the animals.
Mr Beatty said most animal rescue groups did a «fabulous job».
"But every now and then a new group comes along that is either deliberately misleading the public or has simply become overwhelmed by numbers and can't cope,» he said.
«We urge the public to do their research and make sure that if they donate money it's being used correctly and can be accounted for.
«This was a classic case where animals suffered because despite the defendant's best intentions, she was simply not providing the necessary care."
Lamprecht was sentenced to one year probation with no conviction recorded.
She was also ordered to pay court and veterinary costs of more than $1500 and was given a five-year prohibition order for all animals other than as approved by the RSPCA Queensland chief inspector.
Lydia Lynch is a reporter for the Brisbane Times