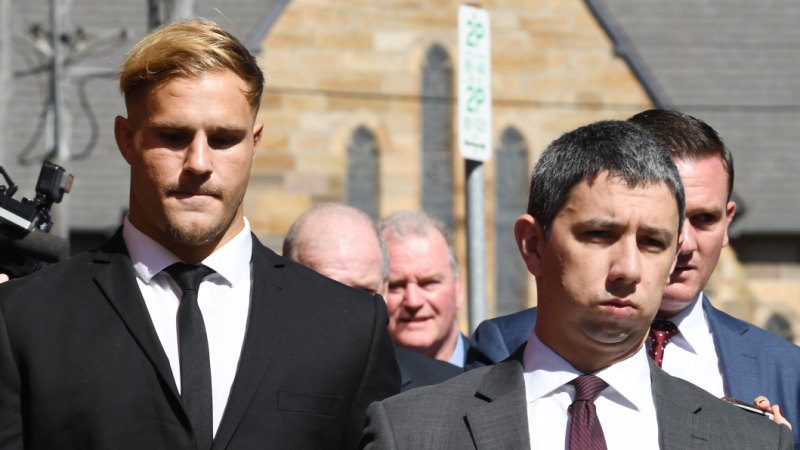 Greenberg met with de Belin on Wednesday to see if he would stand himself down, only to be told in no uncertain terms that would not be happening.
Beattie said he was prepared to stand by any policy change, which is likely to see de Belin stood down with pay, and that there would be some in the game far from impressed.
«We are going to do the right thing by the game of rugby league,» Beattie told the Herald. «It's not easy, it's not popular and I know there will be a lot of people who will have differing views about it, but our job is to look after the game of rugby league.
Loading
«We're not pre-judging anybody who are before the courts – we're making that absolutely clear we're not doing that – but our job is to look after the welfare of rugby league, and that's what we'll do.
«This is about the game, not any individual.
«I expect there will always be some backlash. When you try to do the right thing someone won't agree with you.
«We'll cop on the chin what we cop on the chin.»
Beattie expected people to resist the proposed policy changes: «The reality is we have to make the right decision, and we can't worry about anything else. We're careful and won't infer guilt on anybody. This is about a rule for the good of the game.»
If the NRL stand down de Belin, they will need to do it themselves after the Dragons' forward passed on that option. De Belin has pleaded not guilty to the sexual assault charges.
Greenberg had hoped to convince de Belin to take the matter out of his hands.
His immediate playing future will now be decided at League Central.
The incumbent Blues lock was advised that sitting himself out while his court case is in train could be construed as an assumption of guilt and could prejudice the outcome.
By making the NRL stand him down – rather than doing it himself – de Belin also retains his right to sue the governing body if he is eventually acquitted.
The Dragons have also refused to ban de Belin and are supporting his decision. That puts the onus back on the NRL to make a call.
Under the current protocols, players are allowed to continue their careers until their court cases have been finalised.
However, that policy is expected to change after the commissioners meet.
Beattie has stressed the need to protect the image of the game as it deals with a «train wreck» of an off-season.
The Dragons arrived in Mudgee on Wednesday without de Belin, who was not considered for Saturday's Charity Shield against South Sydney.
Christian covers rugby league for The Sydney Morning Herald.
Adrian Proszenko is the Chief Rugby League Reporter for the Sydney Morning Herald.