The two 17-year-olds in custody takes the total number of those arrested to six.
It came after an 18-year-old Shepparton man was arrested in the Kingsbury area about 9.45pm on Wednesday night, hours after being named by police.
A Broadmeadows boy, 16, and Beveridge man, 20, were also arrested on Wednesday night.
And a 17-year-old from Broadmeadows was arrested on Tuesday when he was found asleep in a shopping centre in the Geelong suburb of Corio along with a BMW X5 believed to have been stolen in the alleged crime spree.
He was charged on Tuesday night with three counts of home invasion, five counts of theft of a motor vehicle, and three counts of theft and was remanded to appear at a children's court at a later date.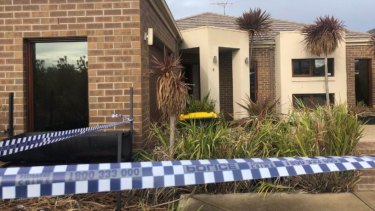 The youths allegedly smashed their way into homes in Mernda, Bentleigh East and Derrimut, threatened and assaulted residents, and carjacked a young mother in a city-wide rampage that began on Sunday night and continued into Tuesday morning.
Police Commander Stuart Bateson told radio station 3AW on Wednesday morning that detectives had spoken to families of the teenagers and had asked for help catching the suspects.
Mr Bateson said the wanted teenagers had been in custody before and were «absolutely» a threat to the public but that police were «pursuing them vigorously».
«We know who the other three are, we've actually contacted their families and told them to hand themselves in,» he said.
Loading
«They have been in custody before, but of course we don't have the opportunity to have them there forever. Certainly they're known to us and they've been in custody before.
«Until we get them into custody they are absolutely a threat and that's why Victoria Police has [put] so much resources into it at the moment to track them down and get them into custody.
«They've shown no signs of slowing down. The series of crimes have just been horrendous for the victims involved.»
One of the home invasion victims, who asked to be identified only as Jane, told 3AW that she and her husband were bashed in a 30-minute ordeal that left them shaken, sore and scared.
Jane said four men forced their way into their home with knives, and threatened to stab or kill the terrified residents unless they handed over car keys and cash.
«We were at home and we heard these loud bangs on the back door and suddenly the door broke,» Jane said.
The teenagers punched her and her husband, she claimed, and turned knives on her after holding them against her 65-year-old mother-in-law's throat.
Jane, who said she was new to Melbourne, cried as she said the ordeal has «totally changed us».
«We don't feel safe at all right now,» she told 3AW.
Anyone with information is urged to contact Crime Stoppers on 1800 333 000 or submit a confidential report online at www.crimestoppersvic.com.au.
Simone is a breaking news reporter for The Age. Most recently she covered breaking news for The Australian in Melbourne.
Rachel is a breaking news reporter for The Age.