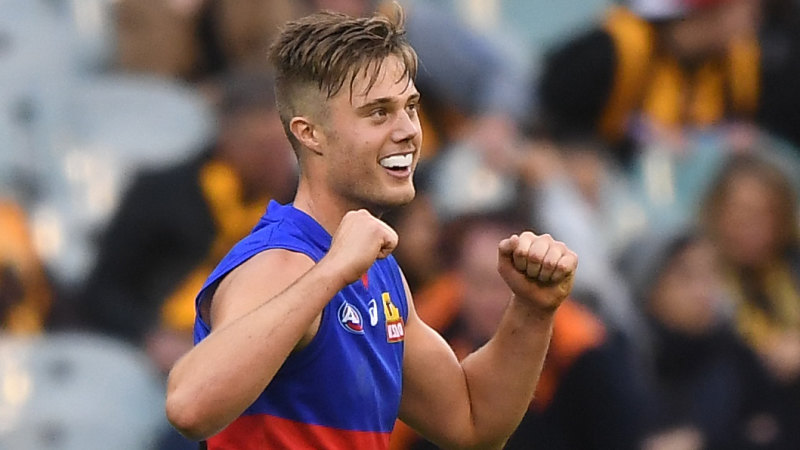 «We'll be conservative with Mitch, the good news is it's not on the side that he broke [in 2016], so if that happened that would be a major concern.
«At the moment we'll make sure we can reintroduce him at the back end of the year.»
Beveridge described Gardner's recruitment from their VFL team as «romantic» and the former Cat's ability to play in a variety of positions appealed to the Doggies coach.
However, he denied Gardner leapfrogging the likes of other key position players such as Schache and Lewis Young straight into the senior team was causing disharmony.
«I talk to those lads every week and they've seen what Ryan's capable of at VFL level and over the last couple of weeks Ryan has played different roles for us and some lockdown roles,» Beveridge said.
«His early form forward was terrific and Lewy Young is going to be a very, very good player for us, he's maturing all the time, he's only 20 years old, and Josh likewise – he played pretty well last week and so he's under consideration to come back in anyway.»
In a boost for the Bulldogs, their very own bionic man Dale Morris is a chance to return to the field of play after the bye after overcoming yet another serious knee injury at the ripe old age of 36.
«He trained on Tuesday, did most of the ball work and every time he jumps a hurdle like that we're all surprised and he had some Cybex testing [which primarily tests joint movement] and he came through with flying colours so it's really promising.
«We'll definitely bring him back through Footscray like he did last time and get his match fitness and his form up and then we'll consider him to come back into the senior team.»
Beveridge acknowledged that his team wouldn't be able to get away with making the same kind of mistakes they made against the Kangaroos when they face the Eagles this week.
And while he conceded facing the reigning premiers in Perth was a «huge challenge», he insisted they weren't unbeatable.
«We understand how strong West Coast are but we'll be chipping away at maybe some of their vulnerabilities and if we're strong through our 22 we'll be right in there with a chance,» he said.
«They haven't got many [vulnerabilities], have they?
«But they have been beaten three times so you look at that … no team is infallible and at our best, as we've shown, we're not a bad team.»
Ronny Lerner is a Sports reporter for The Age.