Longmire said the Swans have had to put up with the hard, slippery centre wicket area for years. The wicket has been in place since 1888, and previous pushes for a drop-in have been staunchly resisted by cricket bodies in NSW and traditionalists.
«We'd support a drop-in wicket if that was part of the discussion — it's certainly very important to discuss it, it's a 12-month-a-year venue and if that's part of the discussion going forward we'll obviously support it,» Longmire said.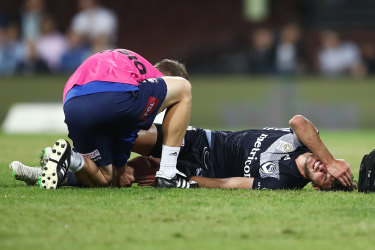 «We've been speaking to the SCG Trust and the AFL for a number of years in regards to that and hopefully it's a consideration going forward. The centre wicket area has always been a challenge, that's why the MCG and Adelaide Oval have (drop-ins). It's something that's absolutely topical and needs to be discussed.»
However, an SCG Trust spokesperson told the Herald there were no plans to begin growing a drop-in wicket, that they had nowhere to actually grow one, and that the current configuration of the grandstands meant it would be impossible to transport a portable wicket onto the playing surface anyway.
Cricket NSW's position on the matter also has not changed, despite the challenges being faced by the SCG as a result of Allianz Stadium's demolition.
Loading
«We believe that for the benefit of the fans and players natural turf pitches must remain at the Sydney Cricket Ground,» Cricket NSW CEO Lee Germon said. «The characteristics of a natural pitch change over the five days of a Test, highlighting the players' full range of skills.»
The Herald has obtained a copy of an inspection report compiled by AGCSATech, a turf consultancy company, for the AFL three days before the Swans' first match of the season. It concluded the surface was in «very good condition» and «more than suitable» to host AFL games, despite slight differences in the hardness of three different sections of the ground.
Football Federation Australia also doubled down on its belief that the surface was completely safe for Saturday night's A-League clash between Sydney FC and Melbourne Victory and had been verified as such by two independent expert reports.
But A-League chief Greg O'Rourke said the wicket block «compromises the uniformity of the field» for football, prompting next week's match to be moved away.
The NRL, meanwhile, is seeking an urgent meeting with the SCG Trust to discuss the problems with the surface. The Sydney Roosters don't play there until Anzac Day but the NRL's head of football Graham Annesely said the recent issues were «concerning not just for rugby league, but all codes that use the ground.»
Annesley did, however, say the Roosters had not yet flagged any intention to move games away from the SCG with him.
Vince is a sports reporter for The Sydney Morning Herald.