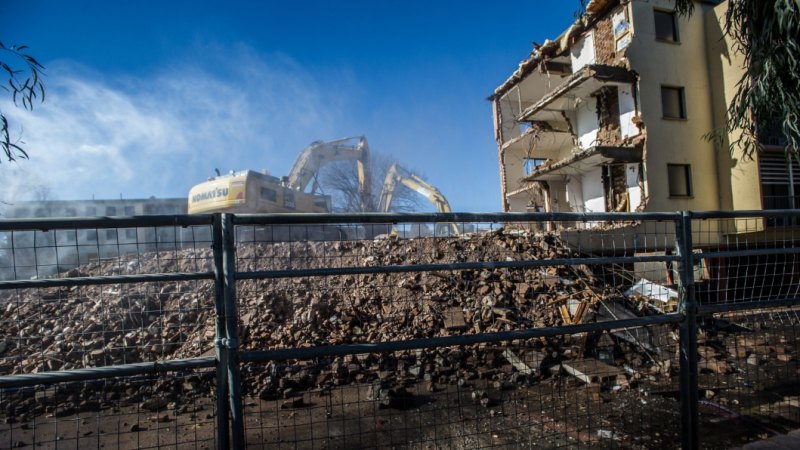 Had construction costs been maintained at 2015 levels, the government would have spent as much as $20 million less to build the dwellings.
Loading
The construction firms to win most of the contracts were: Belford winning $39 million of work, Chase winning $36 million worth, PBS on $35 million, Hindmarsh winning $30 million and Capcorp winning $29 million.
In total, those five firms won about 58 per cent of the contracts the government has publicly listed as awarded through the Housing ACT panel contract the taskforce uses, with a further 12 construction firms sharing the remaining 43 per cent of jobs.
Most of the new public housing has been built in Molonglo and Gungahlin; particularly in Coombs, Gungahlin town centre, Moncrieff, Taylor and Throsby, though some have been built in existing areas including one in Yarralumla and a few in the inner north and south.
The analysis includes all publicly available construction contracts; there may be some which the public housing taskforce has not listed online, and three contracts published did not include the number of dwellings to be built in public documents.
Loading
While the construction costs have risen about $20,000 since 2015, the $351,000 was below initial financial modelling estimating costs at $292,000 for single dwellings and $362,000 for multi-unit dwellings.
But it was above a December 2016 estimate in a revised financial model of a maximum of $335,000 per dwelling for 403 dwellings and $241,000 for 352 dwellings, while an audit of the program in 2017 warned any changes to the model could lead to higher costs.
A spokeswoman for the public housing renewal taskforce said it had spent $408 million to the end of January, including all capital works costs; with 927 dwellings handed to Housing ACT, 288 under construction and 73 to be bought through expressions of interest.
But she said the taskforce had only entered into construction contracts for public housing for 772 public housing dwellings, suggesting some of those paid for through the panel were for public housing outside the scope of the taskforce, or for sale privately, such as those tipped to be sold to Defence Housing Australia.
Loading
She said the increases in costs were «in line with inflation and market influences and are not too dissimilar to the private residential construction market».
She also said the taskforce was on track to have 1288 dwellings completed or settled by the June 30 deadline to access more than $60 million in bonus payments from the Commonwealth under the Abbott government's asset recycling scheme.
But she any big differences were likely due to different housing types, such as multi-unit dwellings that were more complex then freestanding homes, the homes were built to higher than normal standards for energy efficiency, quality, and land typography, green-field or infill development could also impact the costs.
The spokeswoman also said some dwellings may also have additional costs where the government required improved access or other modifications for tenants with a disability.
She also said approved contractors had to meet criteria such as financial capacity, experience and a proven ability to deliver, and all companies were grouped into smaller groups and invited to tender on a competitive basis.
«Whilst $30m is a large amount of money on our large multi-unit developments, it would consist of three to five projects of approximately $6 million to $7.5 million on average, which over 5 years is consistent with our forecast program delivery projections and financial estimates,» she said.
She said the top five winners of the contracts were also building more complex large multi-unit developments with basements and lifts, and other smaller projects were less complex and instead aimed at smaller companies on the panel with less finance.
Daniel Burdon is a reporter for The Canberra Times